Book Reviews
by Annie Dixon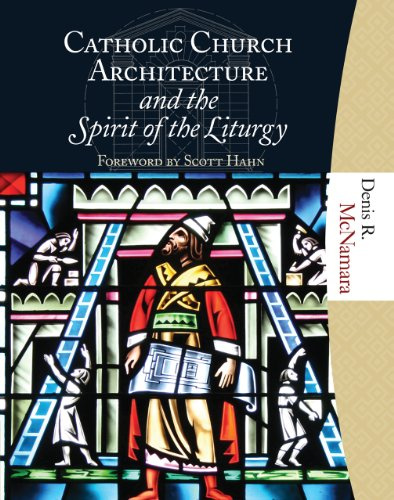 Catholic Church Architecture and the Spirit of the Liturgy
by Denis R. McNamara; published by Hillenbrand Books
reviewed by Annie Dixon in Faith & Form magazine, 2010
Out of a myriad of writings on Catholic church architecture over the last half-century, this sensible and scholarly treatise has emerged to offer a firm foundation of facts and a common language for further discussion.
The author has no strong allegiance to the professional prejudices of architects, clergy, or artists, but rather, as an architectural historian and a worshiper, he respects the role of each discipline in its interdependent efforts to weave something substantial and sacred out of the details of structure and symbolism, placement and proportion, and --most important-- liturgy and beauty.
The author's personal preference for traditional building styles is honestly acknowledged as an informed appreciation of the rich history of Catholic architecture, and is tempered by the inclusion of some contemporary design examples (although photo selection does rely heavily on churches of Western Europe and the author's own region of America).
This ambitious and generously illustrated volume could serve as a textbook in seminaries and in the Catholic colleges of art and architecture where more courses or even workshops on the subject are sorely needed. Until then, it will be a ready reference of useful remedial reading for any priest, designer, or parishioner who takes on a church building or renovation project, providing a vocabulary and a historic basis on which to plan or debate worship spaces for the future.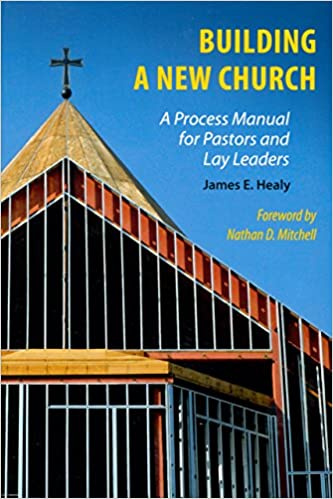 Building a New Church:
A Process Manual for Pastors and Lay Leaders
by James E. Healy; published by Liturgical Press
paperback, 152 pages, $18.95
Reviewed by Annie Dixon in Faith & Form magazine, 2009
There is an abundance of beautiful books on styles of architecture and worship for churches. While those are fine in theory; this book is pure practice: a DIY instruction manual that covers the nuts and bolts of needs assessment, committee structure, fundraising, design, and construction.
This is a valuable blueprint for all those pastors and church volunteers who find themselves blessed with the opportunity to build a new church, but burdened by too much responsibility and not enough experience. There are full descriptions of the research and planning required, complete with helpful statistical information on results to expect and prudent advice on how to maintain communication and participation among the membership. Links to online appendices of checklists and worksheets make these tools readily available to all parties involved in a particular exercise, helping them to plan well at every phase and thereby save time and money on the entire project.
The author is a Roman Catholic priest who has turned his own experience with a building program into a concise guide for the uninitiated. His perspective is both practical and pastoral, as these seemingly mundane tasks are always made meaningful by an emphasis on the opportunity to build community while constructing a building. Readers of other faiths may stumble over specific denominational terms but the general information is clearly written, well organized, and applicable to any building or renovation project in a worship environment. This handbook also could enlighten architects and artists who serve the church, with some insight into their clients' needs and expectations, and help all who collaborate on building a new church to share the same vision.
---
For more articles by Annie Dixon, click here.