art & soul: annie's blog

Wherein are found musings on all things bright & beautiful, sacred & secular, inspiring & frustrating...
which in some clear or convoluted way relate to the studio and its creations or clientele,
with only the occasional non sequitur thrown in just to see if anyone is paying attention...
Read, reflect, even reply to info@dixonstudio.com if you like.
The Passion, Hour by Hour
April 15, 2014
It was only a drawing in the Old Roman Missal but the pastor of St. Benedict's parish in Chesapeake, Virginia was sure it would have been --or could be-- made as a functioning clock.
He checked ebay and antique clock shops to no avail, then brought the drawing to the Priests' Convocation in Staunton in 2012, hoping maybe the folks at the funky little clock shop in town could help him.
Sadly, they only repair, buy, and sell, and had never seen anything like it.
But as fate (or the Holy Spirit) would have it, said pastor ended up at the same dinner table with us the day he had visited the clock shop.
"Hey," he asked, "you guys make things, right?"
Indeed we do. And we like a challenge.
Thus, Dixon Studio was commissioned to create our first Timepiece of the Passion.
The case was designed to suit the colonial architecture of the recently built church interior and the face was replicated from the old drawing, supported by the wings of solemn angels.
The mechanics came from a military clockworks, taking a full 24 hours to complete the journey around the clockface, from the Last Supper to Jesus being laid in the sepulchre, and giving worshipers a new way to meditate on the Passion, hour by hour.
Click Here to see the original image from the Old Roman Missal, and more images.
Print it out for your Holy Thursday / Good Friday mediations.
And, a side note: St. Benedict's is the only Roman Catholic Church built in America since Vatican II which is designed specifically for the Tridentine Rite.
International Copyright Infringement
March 20, 2014
We've had our problems over the years with competitors copying our original designs but now, we've hit the big time: international copyright infringement!
I was alerted by a deacon, to whom we had given written authorization for one-time use to have a Dixon design embroidered on a stole, that the company he had found online to fabricate it for him was now offering the design on a whole line of vestments. As the firm was located overseas, we surmised the usual 'cease & desist' letter would have little impact. Unless, perhaps, if it were written in the native language of the firm...
So, I crafted a short letter notifying the scoundrels that they had been outed, ran it through the Google Translator, and sent the draft to a couple of priests we know who are from the same country. They were horrified at their unethical compatriots and graciously corrected some bits of grammar and tense (and maybe added a dose of guilt or a mention of lawyers in the family back home?). I cut and pasted the foreign words into the form on the firm's Contact Us page and the next morning the links to the Dixon counterfeits all displayed 'Page Not Found.'
Sometimes: it's not What you say, it's How You Say It...
Always: Hooray for our international priests!
He Had Me at Patti Smith
March 13, 2014
Today marks the first year of the papacy of Francis. In that time, he has got a lot of attention from the press corps and made the most of his photo ops, while they make the most of quoting him out of context. Quite a few folks --all of them nonCatholic or fallen away Catholics-- have asked me, "What do you think of the new pope?" This always strikes me as odd, as if my opinion on the matter would, in fact, matter.
I like Pope Francis. I liked Benedict. And John Paul. These are kind, intelligent, hard working, accomplished, moral men. What's not to like? This is not a popularity contest and they're not rock stars. (Although I did enjoy seeing the former club bouncer share a laugh with Patti Smith!) The papacy is an office which, in my lifetime, has been consistently filled by capable spritual leaders who, by the grace of the Holy Spirit, seem well suited to the challenges of their times. We have been fortunate as we enter the Third Millenium of Christianity, to have such leadership; engaging personalities and photo ops are a PR bonus --but if I were the Pope's agent, I'd advise him to keep the red shoes.
Update:
Here is a lovely--and official Vatican-- collection of photos and quotations from the first year of Pope Francis, and here is a great analysis of the media coverage of the Pope.
H/T to Adam's Ale for the links, as well as thanks for giving us one in his blog!
Poignant details in this recent news story...
Three decades ago, the traditional altar at Holy Name of Jesus Church in Brooklyn was replaced by a modern backdrop resembling --in the parishioners' opinion-- hockey sticks.
A current project is underway to install a vintage altar in its place. Initially, a daunting and questionable undertaking for a new pastor, the project has received overwhelming support.
"I wrestled over whether this was the best way to spend money," Fr. Cunningham says. "But when I heard how many people had strayed from Holy Name because of the modern altar, I got on board."
So, here's my take-away:
Following the imposition of an artsy if well-intentioned post-Vatican-II renovation, some parishioners left and the remaining ones were left to refer to their sacred space in snarky terms.
Thirty years later, a new pastor worried about whether he should try to raise the funds try to rectify the situation; parishioners responded with double the $1.2 Million target.
Demolition & Removal of Traditional Altar: Emotionally & Spiritually Expensive
Design, Fabrication & Installation of Hockey Sticks Altar: Financially Expensive
Restoration of Traditional Altar & Welcoming Previous Parishioners Home: Priceless
More details and photos here.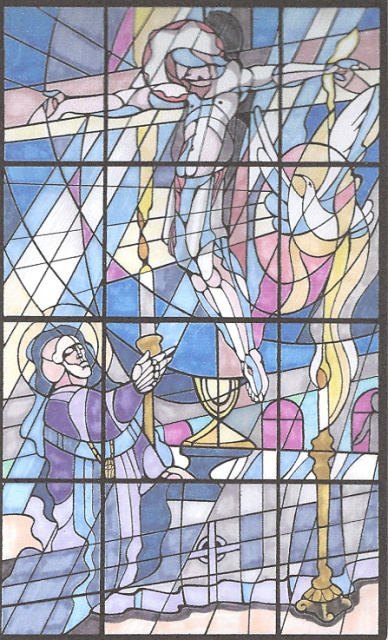 New Year Perspective
January 2, 2014
Here's a pithy little thought to put things in perspective as we start a new year:
We are not human beings having a spiritual experience.
We are spiritual beings having a human experience.
--Pierre Teilhard de Chardon, SJ, priest, mystic, scientist, 1881-1955

image: St. Thomas Aquinas' spiritual experience;
stained glass window design by Ronald Neill Dixon
Finished in the Nick of Time

December 25, 2013


'Twas the week before Christmas and all through the studio
the workers were hurrying to finish their duties. Oh!
The statue was set in the churchyard with care
and chalices were shipped via UPS Air.
With vestments delivered and windows installed
by our hardworking crews, homeward they hauled.
As this old year comes to an end
we'd like to thank those on whom we depend:
on Todd, on Tim, on Dennis and Donald
who work in the studio with Annie and Ronald;
on Jane and Tim Two, on Deborah and Tom
who toil away with great skill and aplomb.
We thank our suppliers in Italy, in Poland, and Spain,
from the Northeast to the South and Great Plains.
We thank all our clients: past, present and yet to be
for giving us meaningful work for our creativity.
Now, Ron by the fire and Annie with a book in her lap
are settling down for a short winter's nap.
We wish you good fortune, great health, and good cheer
and look forward to seeing you in yet another new year.
'Til then, say a prayer to thank God for His son
and ask Him to bless us, each and every one,
and for now we shall simply say:
Merry Christmas to all and to all a good day!
image: Blessed Virgin & Child statue, installed the week before Christmas

Daily Mass Dog
December 20, 2013
This is for all the priests with pups --and we've known quite a few of them over the years, accompanied by every breed from Shih Tzu to Great Dane.
Click here or on the photo for a short and bittersweet tale of a German Shepherd in Italy that has been attending daily Mass in the church where his mistress' funeral was held a couple of months before.
Seems he heads for the church when the village bells toll and sits (or snoozes) contentedly through the service, much to the delight of the priest and parishioners who have adopted him.

Christmas Shopping
December 6, 2013 - St. Nicholas Day!
All I (ever) want for Christmas (or anytime) is books. Here are three of my favorite Christmas books, sure to suit someone on your list --or yourself!
I could set up links to that HUGE site everyone goes to anyway and pretend I am making money by blogging when I skim a few cents off your order but really, you should be able to find them at your local bookstore, which would appreciate your patronage. But, if you can't, I suggest you click on Alibris.com which lets you patronize little local bookstores all over the place and is a great resource for older and out-of-print books. (And that little resource is my gift to all my book-loving blog readers.)
BTW: Did I ever tell you about the Green Valley Bookfair? Visit there when you visit the studio; it's a beautiful drive from one to the other... Just check their schedule and ours before you head for these hills...
And now, back to my faves, wherever you find them:
Favorite FUNNY book:
Wishin' and Hopin' by Wally Lamb
Set in eighth grade, parochial school, 1964, this is probably funniest to cradle Catholics of a certain age, but whether it strikes you as nostalgic or exotic, it combines a warm humor with some laugh-out-loud situations full of spot-on characters.
Favorite MEANINGFUL book:
A Secret Gift by Ted Gup
If you think times are tough now, this true story of a Depression era Christmas will provide perspective.
It also offers a multi-generational tale of generosity and gratitude and mystery which is sad and uplifting all at once, restoring faith in the meaning of Christmas and your fellow man --whatever his religion. Bring Kleenex.
Favorite CHILDREN'S book:
This is the Star by Joyce Dunbar & Gary Blythe
Beautifully illustrated and well written (and children's books are so rarely both!), this is a great read-aloud/learn-to-read book for a young family to share. When it came out, I got it in hardcover for my first niece and have been giving the paperback version to subsequent toddlers for almost twenty years since.
Thinking Outside the Lot
November 24, 2013
We visited a church last week where I spotted this sign which, in over two decades of pulling into hundreds of church parking lots, I had never seen before.
This is just smart and funny and fun. The church raffles off something everyone takes for granted and no one would miss. So, all in good fun, a bunch of folks voluntarily throw in a few bucks for the privilege of parking by the front door for the next year or season. Arrive late, park close, enjoy your winnings and know that you are contributing to the boring old parish operating fund. Pretty clever.
Clever too were my other thoughts for a headline for this blog entry:
Does this Asset Make Our Budget Look Big?
They Prayed for Paradise and Put Up a Parking Lot
Ha! The titles are as easy as the fundraising. What extra perk can your church raffle off to raise a few extra bucks? But seriously: Keep it outside the sanctuary and worship space, please.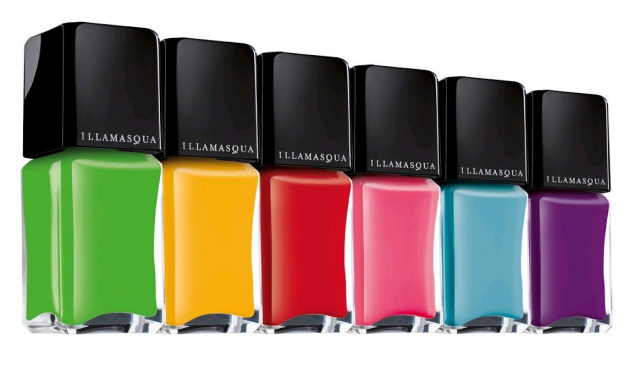 It's a Girl Thing
October 17, 2013
Black is a staple of most women's wardrobes (so slimming) and the older we get, the more we shy away from body conscious clothes and begin to favor more flowing, floaty sorts of things in rich fabrics with a touch of embroidery or applique.
Sartorially speaking, it would seem that we women of a certain age could be well suited for the priesthood.
Problem is, we would be too tempted to paint our nails in the liturgical color of the season.
God Is In the Details
October 11, 2013

Measure twice, cut once.
It's the rule in the studio.

Don't proof your own writing.
It's the rule in the office.

It seems the Vatican could use a good proofreader...

Just as we are writing and proofing the next issue of Art & Soul, the studio journal, we spotted this headline online: "Vatican recalls Pope Francis medal that misspells Jesus as 'Lesus'."

Really?

I mean, the Vatican shouldn't even have to look that one up...

I offered my proofreader a glowing recommendation, should she want to apply, and we both had a good laff laugh.
True Crime
October 1, 2013

We have restored quite a few statues in the studio, including some lovely old Daprato and Meyer pieces made some eighty to a hundred years ago.
So, I was saddened to see the headlines regarding vandalism at a church in New Jersey that resulted in the decapitation and smashing of a number of outdoor statues.

I clicked on the link and read of the 'inexplicable' and 'senseless' act and wondered who would do such a thing and why.

And then I saw the pictures.

The true crime here was committed by whomever had painted the Sacred Heart statue in dayglo color robes and a Grecian Formula beard. If I were a criminal profiler, I'd say the perp is a person of artistic sensibility and this was a crime of passion.

Just saying...
Heavy Hearts
September 1, 2013

Thank you for your prayers for our employee, Todd Hinkle and his family. I am sorry to report that his son, Dalton, passed away Friday night at St. Mary's Hospital in Richmond, his brain and body finally succumbing to the injuries suffered in an auto accident in March. (See entries below.)

Your prayers helped sustain him this long and were a great source of comfort to his family as well. We ask you now to please pray for the repose of his soul and to keep his parents, Todd & Joy Hinkle, in your prayers as they grieve their loss.

Eternal rest, grant unto Dalton, O Lord, and let perpetual light shine upon him.
May his soul and the souls of all the faithful departed, through the mercy of God, rest in peace.
Amen.

Arrangements as follows:
Visitation:
Tuesday, September 3, from 6-8pm at Coffman Funeral Home at 230 Frontier Drive in Staunton.
Graveside Service:
Wednesday, September 4, at 2pm at Green Hill Cemetery in Churchville.

Notes of condolence can be sent to the family via email at info@dixonstudio.com
or via mail c/o Dixon Studio - 323 N Central Avenue - Staunton, VA 24401.
Memorial donations can be made to Churchville Fire and Rescue
P.O. Box 608, Churchville, VA 24421.

Now, if you'll excuse me, I have to cry.
Photo: William Dalton Hinkle, Buffalo Gap High School, Class of 2012
Same Mass, More Vowels

July 1, 2013
I went to the first Latin Novus Ordo Mass offered at my local parish church yesterday. An addition to the usual lineup of services rather than a replacement, it was scheduled for 5pm on Sunday.

It attracted a respectable turnout of 60 or so parishioners, more than half of whom were old enough to remember the Latin Mass -ad orientem- as the only way it was done. The rest of us were curious and/or welcomed an uncrowded alternative to the 7:15am Sunday service. I confess to both motivations and was surprised to find it to be slightly less a child-free-zone than the sunrise version which, truly is the only reason I force myself out of bed at 6am on a perfectly good weekend morning.

For those of us who are products of public school and Vatican II reforms, it was a cultural experience, complete with very nice booklets providing the Latin text on the left and the English translation on the right, an exotic yet familiar guidebook. And for those of us who can neither speak Latin nor carry a tune, it offered a less participatory, more sensory experience of the liturgy in which one could be content simply in the being there.

What next, Fr. Joe? Ad orientem and incense? I'd go to that too.
Good Weather For...
June 7, 2013

Not quite biblical proportions,
but it has been raining a lot lately.

So much so, that the local residents of Lewis Creek
decided to venture out
to assorted gutters and puddles in the neighborhood.

Here, as you can see,
a pair of Mallards decided to park themselves
across the street from the studio
--beneath the No Parking sign.
My world view from the studio parking lot
on a rainy Friday afternoon...
The Brotherhood of the Traveling Tabernacle

May 23, 2013

I was meeting with a pastor on Holy Thursday,
when he happened to ask if we had any tabernacles.
Sure, we can get you anything you want: new, vintage, simple, elaborate.

No, he didn't want to order one, he wanted to know
if we had one in stock that he could borrow.
Today.
Seems he wanted to empty the church tabernacle and reserve the Eucharist elsewhere.

Well, actually, we do have one.
It's no beauty but it works; it's nicely lined, has a key and everything.
(I am amazed how many end up keyless and in assorted states of disrepair.)
We were entrusted with it by a pastor for whom we had provided a new tabernacle;
we use is it as a loaner when we bring in a tabernacle for restoration or repair.
So, there at the end of Holy Week, we happened to find a new assignment for this old tabernacle
and lent it out on its shortest term loan yet.

You never know unless you ask...
Prayer Results
May 10, 2013

Your prayers have been working!
Todd's son has been moved from the hospital to a rehab facility that specializes in head trauma cases. The doctors say he is on schedule with his recovery (which, at its best is a dreadfully slow process) and are optimistic for a promising outcome.
So, the vigil stage is over, much to Todd's relief. Nearing the end of his four week encampment in the hospital waiting room and nearby hotel, he told me, "Miz Dixon, I've never been so stir crazy or so homesick in my life!" So, he's content to be back home and back at work. And we're happy to have him back. And we're all so happy to have Dalton still among us on this side of eternity --and just the other side of the mountain as he recuperates under the skilled care of doctors and nurses and within driving distance of his family.
I will post any news as available but expect it will be slow in coming . So for now, I simply thank you, dear readers, for your help thus far and ask that you keep the Hinkle family in your thoughts and prayers. In the meantime, I return you to your regularly scheduled blog..

Your Praying Hands

April 17, 2013

Again: Thank you to all who have prayed and taken an interest in the situation with Todd's son, Dalton (see earlier entries below). And most thanks to Him who answered those prayers.
It is going on four weeks now and there is some small progress to report.
Dalton is off the coma-inducing medication and opens his eyes for periods of time, and does seem to know that his parents are there. Todd reports that his son seems to focus on them and on the television and makes some small movements. His vital signs are stabilizing and the doctors are beginning to talk about transferring him to a rehabilitation facility in the future. So, the good news is, his life has been saved; soon begins the hard work of recreating something resembling a normal way of life. It's going to be a long and tedious process so please continue to pray for Dalton's full recovery and strength and perseverance for his family.
And, for those of us who are blessed to be fully engaged in the world, here's a suggestion for somewhere to go, something to do: Check out the above famous work, Praying Hands and more than a hundred other drawings, watercolors, and prints by Albrecht Dürer on display at the National Gallery of Art in Washington, DC., now through June 9.
Spiritual & Corporal Works of Mercy
April 6, 2013
Birthday of Blessed Pier Giorgio Frassati
Todd's son, Dalton, is being lifted up in prayer in dozens of parishes and congregations, and at least three cathedrals. The nuns in Ireland and the Spanish seminarians are praying for his full recovery, along with the Gideon Ladies at a local Baptist church and every church secretary and business manager on my email list! Staunton innkeepers and the leader of a pilgrimage to Fatima and Lourdes are praying. We've heard from suppliers and colleagues, new neighbors and old friends, and –of course– our priests and deacons, by the dozens!
Want to know how to pray?
You can borrow this from Elaine, a lovely lady we worked with a few years back, when she was on the building committee for a new church. She wrote to tell me her prayer:
"Father, I place Dalton in your mighty hands. Let the swelling in his brain diminish and give him healing and newness of life in body, mind and spirit. Let him live to serve you and bring many others to you. Lord you are gracious and do so much more than we can ask or imagine! Give peace and trust to Dalton's parents and siblings. In Jesus' Name. Amen."
Or take a suggestion from a Monsignor we have known for years, who urges us "...to ask the intercession of a young man (24) who has been a POWERFUL prayer intercessor for me in many occasions, one being investigated by Rome as a miracle...Blessed Pier Giorgio Frassati. I will ask him to pray that Todd's son is completely healed...fully."
Here are a couple of links for information on this physically and spiritually athletic young fellow, known as The Man of the Beatitudes:

Blessed Pier Giorgio Frassati - A Saint for the Youth of the Third Millennium

Frassati USA

That takes care of the spiritual works of mercy.
As for the corporal works of mercy, kudos to Mrs. Rowe's Restaurant & Bakery for hosting a fundraiser for both boys' families this past Wednesday, and to Rocky Simonetti of Rocky's for his generous contribution! These classic local businesses know how to take care of their community. As do the hundreds of locals who turned out to support the effort.
And we at Dixon Studio know how to take care of our Best Employee Ever: Todd remains on the payroll (with personal 'direct deposit' of his checks at the local bank by yours truly) and hubby called one of our subcontractors whose relative manages a hotel near the hospital and arranged for an awesome rate. Our sub even paid for the first three nights! So, Dalton's parents have been able to stay in Charlottesville since the night of the accident, with the simple comfort of naps and showers.
It has been two whole weeks for Dalton and there is finally a bit of progress. Just yesterday, the respirator was removed and he is breathing on his own now. The doctors are slowly weaning him off the coma inducing medication and we all remain hopeful and faith-filled for a full recovery. Please continue to keep him in your prayers... and we'll continue to keep you posted.
photo above: Pier Giorgio Frassati (1901-1925)
Gratitude

April 3, 2013
Wow. I sent out a prayer request on Monday morning. Well, actually, a few hundred of them... to friends, clients, suppliers, neighbors, and anyone else in my emailbox. Hundreds of people have read it, forwarded it, and kept praying. Dozens wrote back with words of encouragement and some questions.

So, here are the answers for anyone else who may be wondering...

Full Names for Prayer Intentions:
Dalton Hinkle is the son in the coma.
Todd and Joy Hinkle are his parents.
Yes, absolutely put these names on your prayer lists and in your church bulletins.
Hospital, Accident, and Medical Info:
Dalton is in the Intensive Care Unit at the University of Virginia Medical Center. He and his buddy, David Fitzgerald, were driving early on a Friday evening and attempted to pass another car when their car caught the edge of the pavement and flipped. Lack of driving experience -and seatbelts- seem to be the only contributing factors.
David was also hospitalized but was never considered to have any life threatening or life altering injuries; he was discharged from the hospital this week and is receiving follow up treatment closer to home.
Dalton suffered a head injury and is in an induced coma to keep brain swelling down. Until the doctors feel confident to bring him out of the coma, they won't know the extent of injury. It's a great hospital and they are keeping his parents well informed of any changes but it's the waiting and the not knowing that's so tough...
Yes, you can get notes and words of encouragement to Todd.
We forward everything that comes in to the studio email.
We've all been to visit, but these little notes mean a lot to them in the quiet hours.
Further Questions & Updates
Please keep praying and emailing and we'll keep you informed of any news.
You can also check here for updates on the blog.
Prayers, Please

April 1, 2013
If you've had a delivery from Dixon Studio in the past ten years, you've met Todd.
And everyone loves Todd.
We know because we get compliments on the phone and the email after most every installation.
Besides, we love him too.

He cuts glass, glazes and installs windows, cleans statues, hangs crucifixes, and fixes fonts.
Capably. Reliably. And most of all, Cheerfully.

But, suddenly, there is no cheer in his life.
His 19 year old son was in a bad car accident
ten days ago and remains in a coma.
Todd and his wife are keeping vigil at the ICU
at the hospital and could use your prayers.

Please pray for Dalton's full recovery
and for strength for his parents. Amen.
photo:
Todd patching cracks on a statue of St. Martin de Porres for Holy Rosary Catholic Church in Richmond, Virginia.
Alleluia!
He is Risen!
Easter Sunday
2013
Sent this lovely image out
this morning and got some
nice notes in response...

My favorite is from
my friend in Mexico
who wrote
'Beautiful.
It has many details
that happened
that Sunday morning.
The soldiers sleeping,the rock, the ángel,
it is a meditation.'

It is.
Let's meditate.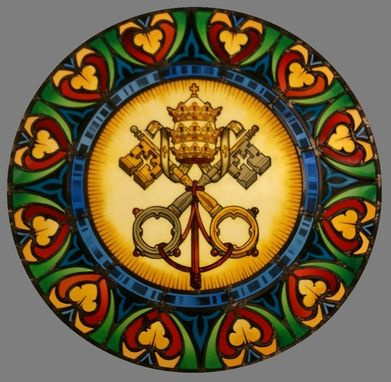 Habemus Papum
March 14, 2013
We have a pope!
The first Francis.
Francis the First.

The first pope
from the Americas.
Hmmm...
Watching and waiting...

Where did he come from?
What's he going to do?
How will it be reported?
And isn't it amazing
the amount of attention
given by the press
to a position
and an institution
they generally dismiss
as irrelevant?
photo: papal seal in center of window recently installed
at St Elizabeth of Hungary Catholic Church in Colonial Beach, Virginia
Talking of Michelangelo
March 13, 2013
Oh, do not ask, "What is it?"
Let us go and make our visit.
In the room the women come and go
talking of Michelangelo.
– from The Lovesong of J. Alfred Prufrock by T.S. Eliot
We recently made our visit to a little upstairs room on the campus of the College of William & Mary in Williamsburg, Virgina, where there is a temporary exhibition of twenty-five drawings by Michelangelo Buonarroti. It is an unusual opportunity to see such a collection so close to home –or anywhere– but what really caught my eye in the articles promoting the show was the fact that it included architectural studies –some for churches that were never built. Ha! We know that feeling!
Sure, the portraits of the Madonna and of Cleopatra may be the headliners but I was more interested in the studies (or, as we call them in our studio: doodles) that give some insight into how the artist was working out proportions and details of potential projects –some 450 years ago.
From Williamsburg, the show moves on to the Museum of Fine Arts in Boston, and then back home to Casa Buonarroti. Catch it while you can!
And, as an extra bonus, an exhibition of large works by Mattia Preti is running concurrently. These have been carefully assembled from diverse collections in North America, including the Getty Museum, the National Gallery, Bob Jones University, the Montreal Museum, and private collections. Again, I confess I get distracted by the realities of the art business, wondering about the size of the walls in the homes of the private collections that could accommodate a canvas of 70" x 99"...
image above:
plan for the church of San Giovanni dei Fiorentini
in Rome by Michelangelo
Have You Seen
This Man?

February 12, 2013 / Mardi Gras

You have if you've been to Staunton's historic downtown hotel, where he is the bartender at Sorrell's Lounge.

You may remember him from Convocation, when his uniform was somewhat less flamboyant or accessorized.
But here he is, waiting tables in all his Mardi Gras glory a couple of years ago.

Gotta love the attitude!

And: gotta love the attention he and the rest of the staff put into planning for Convocation.

Seems there were a few appetizers and wines by the glass on the menu, priced at $6.00.
Quite reasonable really, when you consider big city prices –and factor in the generous portions and pour of our small town chefs & bartenders.

So, what's the problem? When taxed at the restaurant rate of 11% the bar tab for one of these items would total $6.66.
To which our favorite bartender exclaimed: "Oh No: I am NOT handing a priest a bill for $6.66!"

Which explains why certain items on the menu now cost $6.01 + tax.
Two Weeks Notice
February 11, 2013
Job Opening: CEO
Multinational Religious Organization.
Must have impressive curriculum vitae, spotless reputation,
and be a 'people person.'
Must be fluent in Latin;
successful candidate will be fluent in multiple languages.

Room, board, and wardrobe (including red shoes) provided; must be willing to travel.
Background in theology required; familiarity with sacred art, architecture, and music a plus.
Must be able to read ancient scrolls and medieval manuscripts, and have twitter account.
No room for advancement (unless, of course, God turns in His resignation).
Please forward letter of interest to College of Cardinals.
All applications held in the strictest confidence.
Position available March 1, 2013.
Wrapped in Love
February 2, 2013
Last month we took our show on the road and set up a display at the Annual Council of an Episcopal Diocese. These gatherings are a good opportunity to meet clergy, show our wares, and find out who may be shopping (or just dreaming) for what. The clergy and vestry gather annually to take care of collective business. And they take a few breaks throughout the day and wander through the exhibit hall.

So there we were, with three other church goods suppliers, one architectural firm, a few retreat centers and retirement homes, and lots of charities, ministries, and missions. They mix us up so as not to segregate the businesses from the nonprofits, thereby making for an interesting walk around the hotel's atrium even for us exhbitors who mill about and check out the other tables and chat with one another to pass the slow times.

I met lots of ladies hawking handmade crafts from African missions: baubles and textiles and fair trade coffee that supports micro economies in small communities on a large continent far away. But my favorite exhibit was at the table right next to ours; they weren't importing stuff from Africa, they were exporting love, handmade in America.

The Love Quilt Project grew out of a charitable mission to an orphanage in South Africa. Rather that 'just' do charity, this Virginia church group wanted to create and leave something meaningful for the children who had lost their parents to AIDS. Thus began the quilt project...

Each quilt contains 20 central squares drawn by American children, then quilted together in a standard pattern but in the fabrics and colors of the volunteer seamstresses' choosing. Each orphaned child receives a quilt, knowing it was created with love by children and church ladies just for him or her.

Heirlooms for orphans. How beautiful is that?
Fr. Mac & Cheese
January 6, 2013 / Feast of the Epiphany
The best presents are those that are truly unexpected.
Surprise! Merry Christmas!

And so it was when we received a box from Gethsemani Farms. The label stated simply: "Thank you. Christmas Blessings. Fr. Mac." The box itself was imprinted with "Refrigerate Upon Receipt." This promised to be as tasty as it was thoughtful. But this was no corporate gift basket from an account rep appreciative of our business; this was a heartfelt thank you from a client appreciative of our work.

Fr. Mac is old school. In fact, he's so old school, I wouldn't dare call him "Fr. Mac" in person but a certain sister once referred to him that way and it has stuck in my mind. He is proper and precise and devout and decent. His is, as an admiring parishioner once told me, "what a priest should be." And if a priest should be polite and grateful, so is our Fr. Mac.

We had recently replated his ordination chalice for him and this gift -along with full payment for services rendered- is what we receive in return. And what a gift: Trappist cheese from the monks of Gethsemani Abbey in Kentucky. OMG! This stuff makes the grocery store offerings seem like weak tofu. Just opening the block of 'mild' cheese is a sensory experience, as hearty earthy aromas waft forth... I can't wait to move on to the 'aged' and "smoky' versions...

And yes, it snowed shortly after we received this special delivery. So, of course, I had to make mac & chesse, which I topped with extra shavings of Trappist chesse. Mmmm! Will work for food...
Speaking of Good Pope John

January 2, 2013
Pope John XXIII was born Angelo Guiseppe Roncalli in 1881. He took the moniker John as his regnal name when elected Pope in 1958 and is often referred to as Good Pope John, to distinguish him from more than 20 others who were, I surmise, mediocre, and one who was a scoundrel. But my favorite nickname for Papa Giovanni is "Johnnie Walker," which comes from his habit of sneaking out of the Vatican to walk the streets of Rome.

Here are our most recent depictions of His Excellency's Mirth & Girth, in a stained glass window at Sacred Heart Catholic Church in Warner Robins, Georgia. The original design is shown at the left and the completed window to the right.


The New Year
Begins with a New Day
January 1, 2013

As does every new opportunity and second chance; the trick is not to overdo the anticipation or the ambition. Here then, are the guiding principles for a temperate approach to each new day, which, after 365 recitations and exercises, just may add up to a happy and accomplished year:

Daily Decalogue of Pope John XXIII

1. Only for today, I will seek to live the livelong day positively without wishing to solve the problems of my life all at once.

2. Only for today, I will take the greatest care of my appearance: I will dress modestly; I will not raise my voice; I will be courteous in my behavior; I will not criticize anyone; I will not claim to improve or to discipline anyone except myself.

3. Only for today, I will be happy in the certainty that I was created to be happy, not only in the other world but also in this one.

4. Only for today, I will adapt to circumstances, without requiring all circumstances to be adapted to my own wishes.

5. Only for today, I will devote ten minutes of my time to some good reading, remembering that just as food is necessary to the life of the body, so good reading is necessary to the life of the soul.

6. Only for today, I will do one good deed and not tell anyone about it.

7. Only for today, I will do at least one thing I do not like doing; and if my feelings are hurt, I will make sure no one notices.

8. Only for today, I will make a plan for myself; I may not follow it to the letter, but I will make it. And I will be on guard against two evils: hastiness and indecision.

9. Only for today, I will firmly believe, despite appearances, that the good Providence of God cares for me as no one else who exists in this world.

10. Only for today, I will have no fears. In particular, I will not be afraid to enjoy what is beautiful and to believe in goodness. Indeed, for twelve hours I can certainly do what might cause me consternation were I to believe I had to do it all my life.