Wherein are found musings on all things bright & beautiful, sacred & secular, inspiring & frustrating... which in some clear or convoluted way relate to the studio and its creations or clientele, with only the occasional non sequitur thrown in just to see if anyone is paying attention...
Read, reflect, even reply to info@dixonstudio.com if you like.
Prayer Results
May 10, 2013
Your prayers have been working! Todd's son has been moved from the hospital to a rehab facility that specializes in head trauma cases. The doctors say he is on schedule with his recovery (which, at its best is a dreadfully slow process) and are optimistic for a promising outcome. So, the vigil stage is over, much to Todd's relief. Nearing the end of his four week encampment in the hospital waiting room and nearby hotel, he told me, "Miz Dixon, I've never been so stir crazy or so homesick in my life!" So, he's content to be back home and back at work. And we're happy to have him back. And we're all so happy to have Dalton still among us on this side of eternity --and just the other side of the mountain as he recuperates under the skilled care of doctors and nurses and within driving distance of his family.
I will post any news as available but expect it will be slow in coming . So for now, I simply thank you, dear readers, for your help thus far and ask that you keep the Hinkle family in your thoughts and prayers. In the meantime, I return you to your regularly scheduled blog..

Your Praying Hands

April 17, 2013
Again: Thank you to all who have prayed and taken an interest in the situation with Todd's son, Dalton (see earlier entries below). And most thanks to Him who answered those prayers.
It is going on four weeks now and there is some small progress to report.
Dalton is off the coma-inducing medication and opens his eyes for periods of time, and does seem to know that his parents are there. Todd reports that his son seems to focus on them and on the television and makes some small movements. His vital signs are stabilizing and the doctors are beginning to talk about transferring him to a rehabilitation facility in the future. So, the good news is, his life has been saved; soon begins the hard work of recreating something resembling a normal way of life. It's going to be a long and tedious process so please continue to pray for Dalton's full recovery and strength and perseverance for his family.
And, for those of us who are blessed to be fully engaged in the world, here's a suggestion for somewhere to go, something to do: Check out the above famous work, Praying Hands and more than a hundred other drawings, watercolors, and prints by Albrecht Dürer on display at the National Gallery of Art in Washington, DC., now through June 9.
Spiritual & Corporal Works of Mercy
April 6, 2013
Birthday of Blessed Pier Giorgio Frassati
Todd's son, Dalton, is being lifted up in prayer in dozens of parishes and congregations, and at least three cathedrals. The nuns in Ireland and the Spanish seminarians are praying for his full recovery, along with the Gideon Ladies at a local Baptist church and every church secretary and business manager on my email list! Staunton innkeepers and the leader of a pilgrimage to Fatima and Lourdes are praying. We've heard from suppliers and colleagues, new neighbors and old friends, and –of course– our priests and deacons, by the dozens!
Want to know how to pray?
You can borrow this from Elaine, a lovely lady we worked with a few years back, when she was on the building committee for a new church. She wrote to tell me her prayer:
"Father, I place Dalton in your mighty hands. Let the swelling in his brain diminish and give him healing and newness of life in body, mind and spirit. Let him live to serve you and bring many others to you. Lord you are gracious and do so much more than we can ask or imagine! Give peace and trust to Dalton's parents and siblings. In Jesus' Name. Amen."
Or take a suggestion from a Monsignor we have known for years, who urges us "...to ask the intercession of a young man (24) who has been a POWERFUL prayer intercessor for me in many occasions, one being investigated by Rome as a miracle...Blessed Pier Giorgio Frassati. I will ask him to pray that Todd's son is completely healed...fully." Here are a couple of links for information on this physically and spiritually athletic young fellow, known as The Man of the Beatitudes:
Blessed Pier Giorgio Frassati - A Saint for the Youth of the Third Millennium
That takes care of the spiritual works of mercy.
As for the corporal works of mercy, kudos to Mrs. Rowe's Restaurant & Bakery for hosting a fundraiser for both boys' families this past Wednesday, and to Rocky Simonetti of Rocky's for his generous contribution! These classic local businesses know how to take care of their community. As do the hundreds of locals who turned out to support the effort.
And we at Dixon Studio know how to take care of our Best Employee Ever: Todd remains on the payroll (with personal 'direct deposit' of his checks at the local bank by yours truly) and hubby called one of our subcontractors whose relative manages a hotel near the hospital and arranged for an awesome rate. Our sub even paid for the first three nights! So, Dalton's parents have been able to stay in Charlottesville since the night of the accident, with the simple comfort of naps and showers.
It has been two whole weeks for Dalton and there is finally a bit of progress. Just yesterday, the respirator was removed and he is breathing on his own now. The doctors are slowly weaning him off the coma inducing medication and we all remain hopeful and faith-filled for a full recovery. Please continue to keep him in your prayers... and we'll continue to keep you posted.
photo above: Pier Giorgio Frassati (1901-1925)
Gratitude

April 3, 2013
Wow. I sent out a prayer request on Monday morning. Well, actually, a few hundred of them... to friends, clients, suppliers, neighbors, and anyone else in my emailbox. Hundreds of people have read it, forwarded it, and kept praying. Dozens wrote back with words of encouragement and some questions.
So, here are the answers for anyone else who may be wondering...
Full Names for Prayer Intentions:
Dalton Hinkle is the son in the coma.
Todd and Joy Hinkle are his parents.
Yes, absolutely put these names on your prayer lists and in your church bulletins.
Hospital, Accident, and Medical Info:
Dalton is in the Intensive Care Unit at the University of Virginia Medical Center. He and his buddy, David Fitzgerald, were driving early on a Friday evening and attempted to pass another car when their car caught the edge of the pavement and flipped. Lack of driving experience -and seatbelts- seem to be the only contributing factors.
David was also hospitalized but was never considered to have any life threatening or life altering injuries; he was discharged from the hospital this week and is receiving follow up treatment closer to home.
Dalton suffered a head injury and is in an induced coma to keep brain swelling down. Until the doctors feel confident to bring him out of the coma, they won't know the extent of injury. It's a great hospital and they are keeping his parents well informed of any changes but it's the waiting and the not knowing that's so tough...
Yes, you can get notes and words of encouragement to Todd.
We forward everything that comes in to the studio email.
We've all been to visit, but these little notes mean a lot to them in the quiet hours.
Further Questions & Updates
Please keep praying and emailing and we'll keep you informed of any news.
You can also check here for updates on the blog.
Prayers, Please
April 1, 2013
If you've had a delivery from Dixon Studio in the past ten years, you've met Todd.
And everyone loves Todd.
We know because we get compliments on the phone and the email after most every installation.
Besides, we love him too.
He cuts glass, glazes and installs windows, cleans statues, hangs crucifixes, and fixes fonts.
Capably. Reliably. And most of all, Cheerfully.
But, suddenly, there is no cheer in his life.
His 20 year old son was in a bad car accident
ten days ago and remains in a coma.
Todd and his wife are keeping vigil at the ICU
at the hospital and could use your prayers.
Please pray for Dalton's full recovery
and for strength for his parents. Amen.
photo:
Todd patching cracks on a statue of St. Martin de Porres for Holy Rosary Catholic Church in Richmond, Virginia.
Alleluia!
He is Risen!
Easter Sunday
2013
Sent this lovely image out
this morning and got some
nice notes in response...
My favorite is from
my Mexican friend
who wrote
'Beautiful.
It has many details
that happened
that Sunday morning.
The soldiers sleeping,
the rock, the ángel,
it is a meditation.'
It is.
Let's meditate.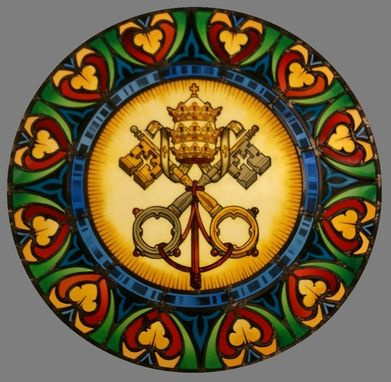 Habemus Papam
March 14, 2013

We have a pope!
The first Francis.
Francis the First.
The first pope
from the Americas.
Hmmm...
Watching and waiting...
Where did he come from?
What's he going to do?
How will it be reported?
And isn't it amazing
the amount of attention
given by the press
to a position
and an institution
they generally dismiss
as irrelevant?
photo: papal seal in center of window recently installed
at St Elizabeth of Hungary Catholic Church in Colonial Beach, Virginia
Talking of Michelangelo
March 13, 2013


Oh, do not ask, "What is it?"
Let us go and make our visit.
In the room the women come and go
talking of Michelangelo.
– from The Lovesong of J. Alfred Prufrock by T.S. Eliot
We recently made our visit to a little upstairs room on the campus of the College of William & Mary in Williamsburg, Virgina, where there is a temporary exhibition of twenty-five drawings by Michelangelo Buonarroti. It is an unusual opportunity to see such a collection so close to home –or anywhere– but what really caught my eye in the articles promoting the show was the fact that it included architectural studies –some for churches that were never built. Ha! We know that feeling!
Sure, the portraits of the Madonna and of Cleopatra may be the headliners but I was more interested in the studies (or, as we call them in our studio: doodles) that give some insight into how the artist was working out proportions and details of potential projects –some 450 years ago.
From Williamsburg, the show moves on to the Museum of Fine Arts in Boston, and then back home to Casa Buonarroti. Catch it while you can! Click this link for more information:
Muscarelle Museum of Art, February 9 - April 14; $15 admission, includes parking
And, as an extra bonus, an exhibition of large works by Mattia Preti is running concurrently. These have been carefully assembled from diverse collections in North America, including the Getty Museum, the National Gallery, Bob Jones University, the Montreal Museum, and private collections. Again, I confess I get distracted by the realities of the art business, wondering about the size of the walls in the homes of the private collections that could accommodate a canvas of 70" x 99"...

image above:
plan for the church of San Giovanni dei Fiorentini
in Rome by Michelangelo
Have You Seen
This Man?
February 12, 2013 / Mardi Gras
You have if you've been to Staunton's historic downtown hotel, where he is the bartender at Sorrell's Lounge.
You may remember him from Convocation, when his uniform was somewhat less flamboyant or accessorized.
But here he is, waiting tables in all his Mardi Gras glory a couple of years ago.
Gotta love the attitude!
And: gotta love the attention he and the rest of the staff put into planning for Convocation.
Seems there were a few appetizers and wines by the glass on the menu, priced at $6.00.
Quite reasonable really, when you consider big city prices –and factor in the generous portions and pour of our small town chefs & bartenders. So, what's the problem? When taxed at the restaurant rate of 11% the bar tab for one of these items would total $6.66.
To which our favorite bartender exclaimed: "Oh No: I am NOT handing a priest a bill for $6.66!"
Which explains why certain items on the menu now cost $6.01 + tax.
Two Weeks Notice
February 11, 2013
Job Opening: CEO
Multinational Religious Organization.
Must have impressive curriculum vitae, spotless reputation,
and be a 'people person.'
Must be fluent in Latin;
successful candidate will be fluent in multiple languages.

Room, board, and wardrobe (including red shoes) provided; must be willing to travel.
Background in theology required; familiarity with sacred art, architecture, and music a plus.
Must be able to read ancient scrolls and medieval manuscripts, and have twitter account.
No room for advancement (unless, of course, God turns in His resignation).
Please forward letter of interest to College of Cardinals.
All applications held in the strictest confidence.
Position available March 1, 2013.

Wrapped in Love
February 2, 2013
Last month we took our show on the road and set up a display at the Annual Council of an Episcopal Diocese. These gatherings are a good opportunity to meet clergy, show our wares, and find out who may be shopping (or just dreaming) for what. The clergy and vestry gather annually to take care of collective business. And they take a few breaks throughout the day and wander through the exhibit hall.
So there we were, with three other church goods suppliers, one architectural firm, a few retreat centers and retirement homes, and lots of charities, ministries, and missions. They mix us up so as not to segregate the businesses from the nonprofits, thereby making for an interesting walk around the hotel's atrium even for us exhbitors who mill about and check out the other tables and chat with one another to pass the slow times.
I met lots of ladies hawking handmade crafts from African missions: baubles and textiles and fair trade coffee that supports micro economies in small communities on a large continent far away. But my favorite exhibit was at the table right next to ours; they weren't importing stuff from Africa, they were exporting love, handmade in America.
The Love Quilt Project grew out of a charitable mission to an orphanage in South Africa. Rather that 'just' do charity, this Virginia church group wanted to create and leave something meaningful for the children who had lost their parents to AIDS. Thus began the quilt project...
Each quilt contains 20 central squares drawn by American children, then quilted together in a standard pattern but in the fabrics and colors of the volunteer seamstresses' choosing. Each orphaned child receives a quilt, knowing it was created with love by children and church ladies just for him or her.
Heirlooms for orphans. How beautiful is that?


Sisterhood is Powerful
January 19, 2013

We went to Nashville, Tennessee a few weeks ago. Not because we're country music fans (although hubby can play every Jimmie Rodgers song and I've memorized quite a few of the lyrics through osmosis), but because we were finishing up the Christmas visits with extended and far-flung family.
And through a friend of the family, we got ourselves an invitation to visit the Dominican Sisters of. St. Cecilia.
The sisters have been in Nashville since 1862, teaching, nursing, and praying their way through a civil war, a cholera epidemic, and near bankruptcy. Almost 150 years later, they prayed their way through the Great White Out of the modern churches and dedicated a gorgeous traditional chapel on the same land that had once been up for auction
Proportions are elegant, lines are classic, windows are ornate, statues are gilded but here's my favorite part: the choir stalls!
300 single seats for faithful brides of Christ: adoring, adorable, loving, lovable wimmen!
And I bet no one expects them to reach across those stalls and hold hands during the Our Father...
These are serious and dedicated women who still wear the traditional habit while upholding a traditional standard of worship and architecture in the church.
You go, girls!
Or, actually: stay. You're doing great right where you are.
Just say a little prayer for us, out here in the secular world...
Fr. Mac & Cheese

January 6, 2013 / Feast of the Epiphany
The best presents are those that are truly unexpected. Surprise! Merry Christmas!
And so it was when we received a box from Gethsemani Farms. The label stated simply: "Thank you. Christmas Blessings. Fr. Mac." The box itself was imprinted with "Refrigerate Upon Receipt." This promised to be as tasty as it was thoughtful. But this was no corporate gift basket from an account rep appreciative of our business; this was a heartfelt thank you from a client appreciative of our work.
Fr. Mac is old school. In fact, he's so old school, I wouldn't dare call him "Fr. Mac" in person but a certain sister once referred to him that way and it has stuck in my mind. He is proper and precise and devout and decent. His is, as an admiring parishioner once told me, "what a priest should be." And if a priest should be polite and grateful, so is our Fr. Mac.
We had recently replated his ordination chalice for him and this gift -along with full payment for services rendered- is what we receive in return. And what a gift: Trappist cheese from the monks of Gethsemani Abbey in Kentucky. OMG! This stuff makes the grocery store offerings seem like weak tofu. Just opening the block of 'mild' cheese is a sensory experience, as hearty earthy aromas waft forth... I can't wait to move on to the 'aged' and "smoky' versions...
And yes, it snowed shortly after we received this special delivery. So, of course, I had to make mac & chesse, which I topped with extra shavings of Trappist chesse. Mmmm! Will work for food...
Speaking of Good Pope John

January 2, 2013
Pope John XXIII was born Angelo Guiseppe Roncalli in 1881. He took the moniker John as his regnal name when elected Pope in 1958 and is often referred to as Good Pope John, to distinguish him from more than 20 others who were, I surmise, mediocre, and one who was a scoundrel. But my favorite nickname for Papa Giovanni is "Johnnie Walker," which comes from his habit of sneaking out of the Vatican to walk the streets of Rome.
Here are our most recent depictions of His Excellency's Mirth & Girth, in a stained glass window at Sacred Heart Catholic Church in Warner Robins, Georgia. The original design is shown at the left and the completed window to the right.
Click on the images for larger versions.
The New Year Begins with a New Day
January 1, 2013
As does every new opportunity and second chance; the trick is not to overdo the anticipation or the ambition. Here then, are the guiding principles for a temperate approach to each new day, which, after 365 recitations and exercises, just may add up to a happy and accomplished year:
Daily Decalogue of Pope John XXIII
1. Only for today, I will seek to live the livelong day positively without wishing to solve the problems of my life all at once.
2. Only for today, I will take the greatest care of my appearance: I will dress modestly; I will not raise my voice; I will be courteous in my behavior; I will not criticize anyone; I will not claim to improve or to discipline anyone except myself.
3. Only for today, I will be happy in the certainty that I was created to be happy, not only in the other world but also in this one.
4. Only for today, I will adapt to circumstances, without requiring all circumstances to be adapted to my own wishes.
5. Only for today, I will devote ten minutes of my time to some good reading, remembering that just as food is necessary to the life of the body, so good reading is necessary to the life of the soul.
6. Only for today, I will do one good deed and not tell anyone about it.
7. Only for today, I will do at least one thing I do not like doing; and if my feelings are hurt, I will make sure no one notices.
8. Only for today, I will make a plan for myself; I may not follow it to the letter, but I will make it. And I will be on guard against two evils: hastiness and indecision.
9. Only for today, I will firmly believe, despite appearances, that the good Providence of God cares for me as no one else who exists in this world.
10. Only for today, I will have no fears. In particular, I will not be afraid to enjoy what is beautiful and to believe in goodness. Indeed, for twelve hours I can certainly do what might cause me consternation were I to believe I had to do it all my life.