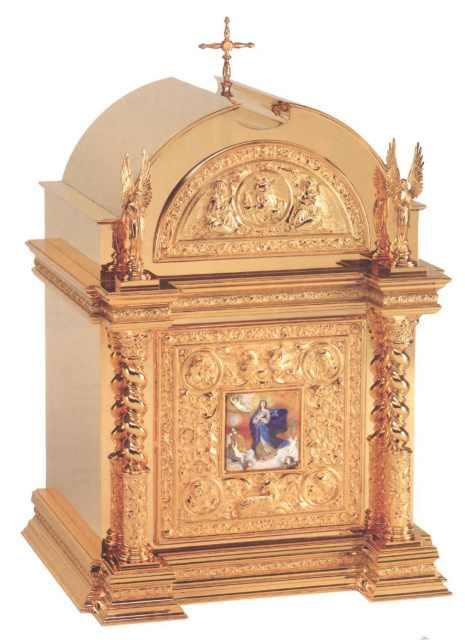 Metalware

Dixon Studio offers fine ecclesiastical metalware from American & European workshops and can supply full sets of altarware or one perfect piece.
Gold, silver, brass, and bronze metals are available in a variety of styles and patterns
for tabernacles, chalices, monstrances, candlestands, thuribles, bells, and more...
Many items can be customized; please ask!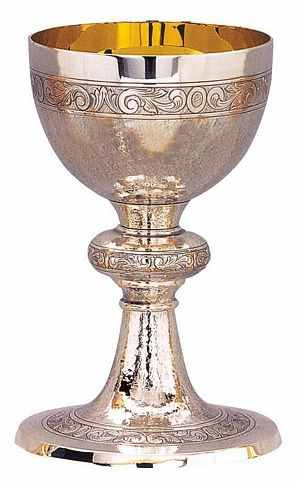 Click these links for a sampling of offerings:
photo: catalog tabernacle, crafted for All Saints Catholic Church
in Manassas, Virginia, with a different center emblem by request.

Ordination chalices are offered with
free standard engraving and a free case.
Contact Dixon Studio for more information and a selection of options for your church.
Start with our Search Service page or call the office at 800-619-1112.
photo: brass chalice, silver plated and gold lined
with hand chiseled ornamentation.
---
TALENTS & SKILLS - In the Studio: Artist's Resume - Awards - Articles
In the Office: Articles - Liturgical Consulting - Newsletters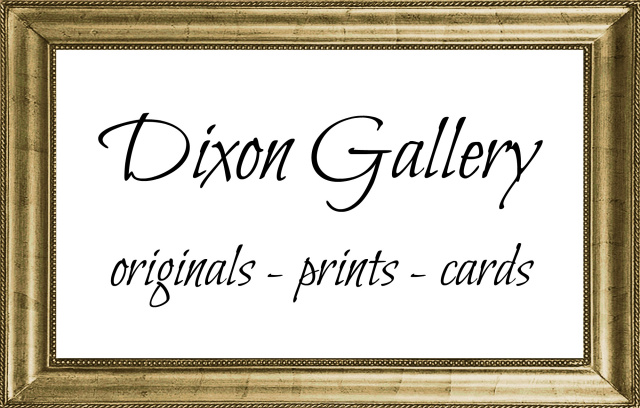 On the Road: Representative's Contact Info and Resume
In the WorkshopsIIn the WorkshopsInIn the Workshops
PRODUCTS & SERVICES - Church Styling - Interior Design - Liturgical Consulting
Crucifixes & Corpora - Fonts - Furnishings - Metalware - Mosaics - Pews - Restoration
Stained Glass - Stations - Statuary - Stonework - Vestments
BARGAINS - Vintage & Antiques
NEWS & NOTES - Articles - Newsletters - On the Boards - Recent Installations
REFERENCES - Photo Galleries - Catholic - Episcopal - Lutheran - Methodist - Other
Alabama - DC - Florida - Georgia - Kansas - Maryland - Mississippi
Missouri - North Carolina - Tennessee - Virginia
CONTACT - Contact Info - Visit - Search Service
---
DIXON STUDIO
a division of the Dixon Arts Guild, Inc.
323 N. Central Avenue; Staunton, VA 24401
800-619-1112
EMail: info@dixonstudio.com
Commonwealth of Virginia Class A Contractor License #2705135941A
Commonwealth of Virginia Class A Contractor
License #2705135941A
All website text & illustrations ©1999-2019 Dixon Arts Guild, Inc.
No content, image, or portion thereof may be copied,
reproduced or transmitted, in any format, in whole or in part
without express written permission from the Dixon Arts Guild.