Amazing Space: He's Blind But How He Sees
Fr. Mike Joly Discusses Religious Art and Architecture with Annie Dixon

This interview appeared in the spring 2015 issue of Faith & Form magazine, a national quarterly focused on religious art and architecture.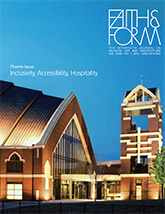 My job description is difficult enough: offering custom-designed luxury items to a charity. Stained glass, mosaics, and precious metals underwritten by donations is not the basis of a practical business plan. Add to the formula a blind pastor calling to discuss a commission in the visual arts. He is a tough customer, not because art and architecture do not matter to him, but because they do.
I met Fr. Mike Joly at a gathering of the priests of our diocese some years ago, when he was a parochial vicar and campus minister. His pastor guided him to our studio's exhibit booth where the three of us talked about liturgical art. He asked to touch the statue of Mary we had on display; with her praying hands enclosed within his, he declared, "She's beautiful." Sharing a shrug and a smile, his pastor and I agreed. She was beautiful. But how did Fr. Mike know? And why did he care?
Since then, Fr. Mike has become a pastor and a client and has given me a new perspective on the appeal and impact of beauty in worship. I asked him to share his point of (non)view regarding church art and architecture, on both its aesthetic value and its practical application for all.
Q: Why do think the visual arts are important to the church?
A: No matter what senses we have or what our sensibilities are, they differ from one another, just as our sense of the sacred does. From a Catholic perspective, we are people of the word, the Word-made-flesh in Christ and in our lives. In our human lives, our spirituality demands the intangible God be made tangible, not only in the Eucharist and the gathered community, but in physical manifestations of sound, light, color, imagery, and proportion.
Q: It seems that you value art and architecture personally, rather than just an effort to be inclusive of your sighted parishioners' needs. How do you judge artwork or an interior space?
A: I have art in my rectory; it fills out a home. I tend to favor art with texture like tapestries, stone, wood inlays, that I can appreciate with my senses.
Because I don't have sight, I rely more upon, and pay more attention to my other senses: how a space sounds, smells, feels. I notice the surfaces, the temperature and humidity. When I visit a parishioner's home, I can tell if it's clean, well organized, not cluttered, if the furnishings are placed properly, sensibly. I can tell if they have artwork on the walls by the acoustics. I can tell how bright a place is –I don't know how I do but I sense it. I get a whole picture of a place through all my senses; some houses just don't breathe and others are beautiful.
Q: So the practical need to remove the skylight in your sanctuary mattered to you aesthetically?
A: Yes. It affected the space. Everything I sense in a house, I sense in the house of the Lord.
I appreciate how the sacred needs to be made beautiful, since it will speak a message of who God is to whomever enters there. I am aware of sacred imagery and its ability to affect even those who cannot see it, or those who don't think they are affected by it.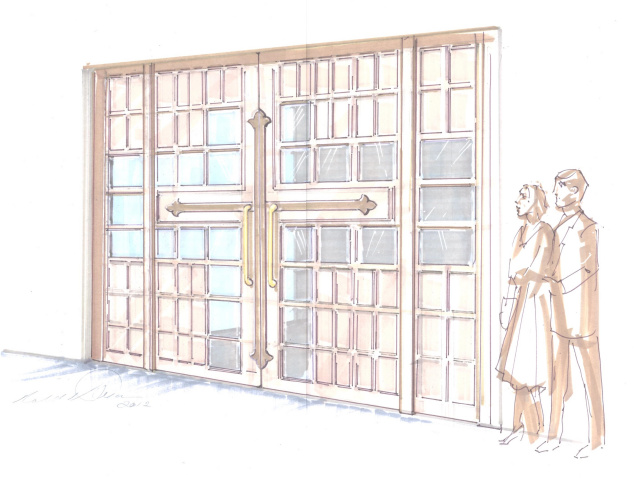 Q: You decided to install doors between the commons and the worship space. Why?
A: Our church is a large contemporary building which had the worship space open to the commons. We needed to differentiate the spaces because they have very different purposes. Within the worship space, we should be looking vertically, upward, to God; in the commons we should be focused horizontally, bringing God to one another. We needed a physical threshold to transition from one purpose and one space to another.
Q: Some of the committee members, with 20/20 vision, could not see the sense in custom- designed doors when the parish had to pay to replace the roof; they encouraged you to go with a less expensive catalog option. Why did you insist on something beautiful and unique?
A: Spending more doesn't require spending the most. I just didn't want cold, metal, industrial or commercial doors. I wanted warm wood handles and large, heavy, important and impressive doors. Of course they have a practical purpose regarding space and noise, but they impart a spiritual message regarding the transition from one realm to another.
Q: What were your guidelines for the design of the doors?
A: I wanted large, tall double doors in the center for processing, with shorter doors flanking them for latecomers, and all doors open for egress. I wanted some glass panels for practical purposes of being able to see through from one space to the other and to allow for light transmission. Doors without glass would be like the stone in front of the tomb.
Q: How have the doors affected the worship experience at your church?
A: They have changed the acoustics. The choir sounds different; it fills the space and is contained within the space. There is no invasion of outside sounds during Mass.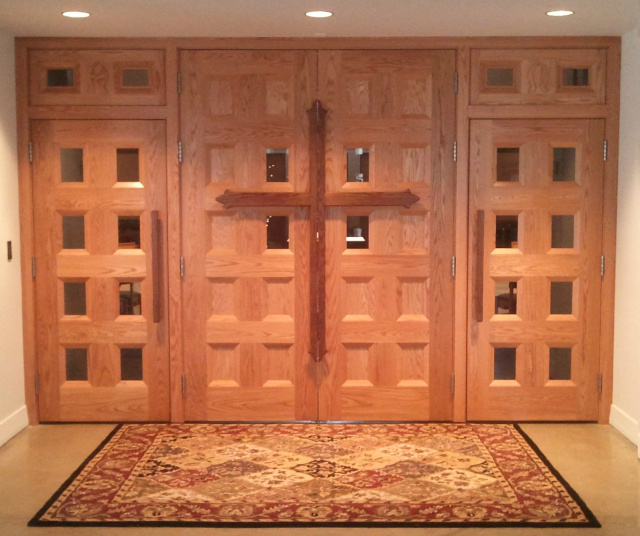 They have heightened our glorification of God and are building up the community. We have well trained Ministers of Hospitality who stand at open doors and welcome worshipers into Holy Mass before the processional. Some of them remain outside the beautiful doors to greet latecomers and invite them to worship together there, until there is a suitable moment to enter the worship space that will not take away from the proclamation of the Word of God or from the oration of sacred prayer. The Hospitality Ministers remain as attendants at the doors during Mass and open the side doors only when appropriate for latecomers. Parishioners are acquiring a sensitivity to the solemnity of the liturgy and to the needs of their fellow worshipers by listening to the Gospel over the speakers in the commons instead of distracting others by casually walking in while the Word of God is proclaimed.
Q: On a practical level, what works for you and what is difficult regarding the architecture and interior design at your church? I assume the lack of steps is a good fit for you.
A: You know, people do make assumptions about the disabled. When I check in at a hotel, for example, they assume I want a handicap accessible room. But, while some prefer and even need them, I think they're sometimes a bit tacky and the bathrooms throw me off, all tiles and drains and no discernable threshold between the floor and the shower.
I like steps. In the worship space they indicate a different purpose, different place; you are ascending. There is an aesthetic and a function for steps. Ramps are helpful but they change the acoustics and if you have a church in the round with a sloped floor, it increases the difficulty of including kneelers at the outset or adding them later.
Q: So, what ADA requirements or guidelines do you find helpful?
A: Some outdoor railings and audio cues have been a little helpful. But the intention of the ADA is shortsighted, focusing on a certain interpretation of inclusion. In Europe there are not railings everywhere but neither are the churches littered with the dead bodies of locals and tourists having slipped off every stair and platform. In America we tend more and more toward the litigious if the highest degree of accommodation has not been afforded, almost hoping that the ADA and public policy could bring the 'Kingdom of God' about on Earth. Realistically, I don't expect the world to accommodate me. All these requirements and cold metal railings can relieve a loving community of its responsibility to look out for each other; especially in the church we should lend a hand, become human railings for each other. Instead, we are compromising an aesthetic for the function, focusing on the human instead of the divine.
Q: Do you feel that sighted designers and regulators are more concerned about this than you are?
A: In my line of work, the physical needs and disabilities are not the focal point but can be considered incidental; addressing the spiritual needs and disabilities and hungers is far more important. Physical limitations have the potential to lead us to the Cross and put us in touch with the crucified Christ. We will all be limited at some point, in some way, by age, illness, or injury. But we all come together in worship.
You know what I envision when I walk through the doors into to the worship space? When those vertical doors open and we process in, I imagine a horizontal door above the space sliding open to Heaven and all the angels and saints lifting our hearts and minds upward and Christ pouring Himself down into the bread and wine, into his people. It's like Jacob's Ladder and it's a beautiful image.
Q. It is. And it puts these concerns in perspective. Is there anything you would like to add?
A: I would just like to say that I think it's really cool you are doing this, bothering to ask these questions, and that people working in church design would be interested in my perspective.
- - - - -
images above:
The cover of Faith & Form magazine, spring 2015.
Fr. Mike Joly visiting St. Mary's Seminary.
The orignal visual rendering for the doors, by Ronald Neill Dixon, for review by the church committee.
The Braille rendering for the doors, created by Dixon Studio for review by Fr. Mike.
The finished doors, incorporating final revisions per Fr. Mike Joly's direction.
Fr. Mike Joly.
- - - - -
Fr. Mike Joly is pastor at St. Joan of Arc Catholic Church in Yorktown, Virginia, where he previously served as parochial vicar while also campus minister at the College of William & Mary in Williamsburg, Virginia. For more on his ministry, go to: fathermikejoly.com
Annie Dixon is project manager at Dixon Studio in Staunton, Virginia. She is an editorial advisor to Faith & Form and serves on the board of the Catholic Virginian newspaper. For more articles by Annie Dixon, click here.